It's Holy Week, a time in the liturgical year that draws Christians into and through great darkness. But there is plenty of darkness in the world—why do we need to invite more? I don't relish the thought of entering into the stories of betrayal and fear, of manipulation by people in power and humanity's willingness to extinguish a light. It would be easier to take if that had all changed now, but we know it isn't so. Even knowing that this story has a good ending, it's not an easy one to engage with.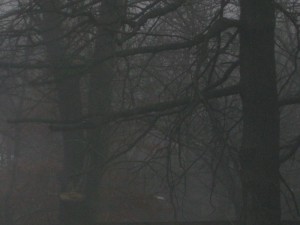 I approach this week thinking, "not again." Why is this, of all weeks, the one labeled "holy?" It's a week filled with unholy actions as well as holy moments, like all of life. Why is its suffering and desolation what we choose to lift up?
Nonetheless, it comes 'round every year. And like any observance that occurs with that regularity, it brings a chance to look at a familiar ritual from the slightly different perspective that another year of living brings.
This year, I'm noticing that the story shows how quickly things turn around: from celebration and adoration to arrest and death; from horror at the crucifixion of a beloved teacher to wonder at the empty tomb. The first Easter morning wasn't yet a triumph, but it brought hope wrapped in mystery. What the disciples thought was over was made open-ended. Despair was replaced with questions that led them to a new place.
In this week of reversals we celebrate the consistent thread running through all of them. Jesus knew who he was and what he was about, regardless of how the world around him shifted. Reality wasn't determined by the crowd's response, good or bad, but by his certain connection with God.
He knew his time was limited and he knew what was important. When the world was growing dark he washed his disciples' feet and shared a meal in a way that remains in our memory today.
Holy Week shows us that everything in the world comes to an end. But we can endure it, knowing that life moves beyond the endings we can see, and that darkness does not have the final word.
Do you find light in this week of darkness? What do you do with Holy Week?