Part 1 in a series on Breath Prayers
Breath means life, an association so close that breath itself feels sacred. Watching the gentle rise and fall of a loved one's chest, smelling the sweet breath of a baby, hearing the labored sound of a struggle to breathe—all are deeply felt experiences.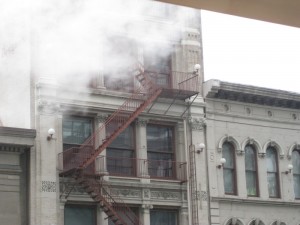 Breath also holds power. It carries the voice, in speech and song, into the world. A wind instrument filled by the breath becomes an extension of the body, magnifying its expression. We move into life by the strength of our breath.
Breath is an intimate mystery, distinctly personal yet not of our doing. Becoming aware of my breath connects me to what is within and what is beyond. In this way, breathing is connected to prayer. Breath also carries the prayers we voice. So it's only natural that we have many traditions of praying in rhythm with the breath. The flow of air, in and out, is an ever-present stream of life and energy. Watching it, like observing a flowing river, helps focus and soothe the mind.
A breath prayer can be wordless. One possibility is to breathe in health and well-being, and to let go of dis-ease while breathing out. Another way to pray a wordless breath prayer is to focus on breathing in God's love and care for me, then breathing out that love and care to the people around me and to all of creation. Both inhale and exhale, receiving and giving love, are essential; they complete each other.
These simple, rhythmic prayers are good to take along into the world. Repetition of a brief prayer that touches the heart can change how I see other people, my circumstances, and myself. It offers calmness in the midst of chaos. It offers some comfort when life is difficult. I can practice a breath prayer when walking or washing dishes, while waiting for a traffic light to change or a computer to reboot.
As I practice a breath prayer, it greets me of its own accord when I become quiet, or sometimes when I most need it. A breath prayer is a reminder that God is present. The prayer, and the presence, are available in every moment.
Is there a wordless prayer that you might want to pray with your breath?
You might also be interested in Part 2, Simple Prayers that Fit our Lives or Part 3, Praying the Psalms.