When my daughter was in elementary school, there was one year when math was more than a class—it was a foe that demanded months of wrestling before she could pin it to the mat. Those afternoon homework sessions required a lot from both of us; it took all the patience and humor, strength and courage we could muster.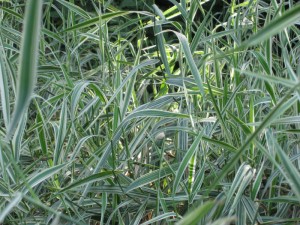 But the most important breakthrough came when I finally realized that she believed she was supposed to already know how to work the new problems. She cut herself no slack for the process of learning a new skill. If she couldn't master it immediately then it was too scary, too hard, and too far out of reach. The first thing she had to learn was that it's ok if you don't yet know how to solve a problem. You're not supposed to already know everything. You're learning. That's your job.
After that, it was just a matter of learning to work the problems. She overcame her math anxiety—better than I did at her age. And I came to appreciate the importance of not being intimidated by problems we don't yet know how to solve. Years later, it remains a good lesson to remember when I need to move forward and don't know how.
We all face problems that we've never encountered before, requiring resources and abilities we have never used. People who have passed through a time of change often speak of finding strength they didn't know they had. They look back and see the growth that occurred as they rose to meet the challenge. Life seems designed to foster our development in this way.
The issues we face have been there for others as well. Whether the challenge arises from a particular situation or in the larger context of the changes in our lives, we are not alone. There is a source of wisdom and clarity that far exceeds anything we can know on our own. That Source is at work, urging us toward where we need to be and helping us to get there. It's ok to take one step at a time; it's ok to only see one step at a time. God works through those steps, leading us to move in the right direction. People with insight and experience can also help, and often appear on our path as if placed there by a loving guide.
We can trust that we're being led forward even when progress is hard to see. It's easier to remember that when I know how to work the problem. But it's even more important to remember it when I feel I'm not up to the task. "Do not let your hearts be troubled, and do not be afraid," are the words of Jesus in John. This deep reassurance is part of the gift of faith. Not knowing how to proceed doesn't mean I can't meet the challenge. It means relying on the abundant resources available. It means remembering to pray, and to open my eyes to how prayer is answered.
What helps you move forward when you don't know the way?