Lately I've been perusing local antique markets, flea markets, estate sales, garage sales, and second hand shops, looking at vintage costume jewelry. I've been having a great time exploring local places that have been in business for years, but hidden in plain sight from me until the antique bug bit. It's a whole new world of old things.
The variety of beads and stones, charms and chains, colors and designs, are endlessly compelling. Some connect me to the past, reminding me of a pin I remember my grandmother wearing or beads for playing dress-up from my mother's jewelry box. A cluster of beads on a clip earring or an elaborate rhinestone brooch evoke another era, while a strand of glowing pearls holds timeless allure.
Many of these pieces, separated from the women who once owned and wore them, are too lovely to be abandoned. So I find myself looking for ways to recreate and place them into the stream of life once again. They usually need cleaning up, and sometimes more—beads restrung, stones replaced. Some of the pieces ask to be worn as is, but more often they need re-visioning. The link from a bracelet can become an interesting element on its own, a single earring can be incorporated into a unique necklace, a pin can become part of a pendant. The amazing designs in these old pieces can find new life when they're separated and combined in new ways. A worthwhile element from the past retains a sense of that era, even as it is fitted to live on in a new context.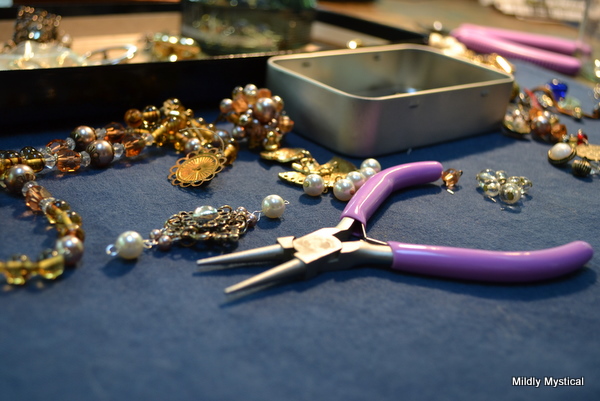 One of the things I love about costume jewelry is its accessibility. I would hesitate to alter a valuable piece of jewelry, even if it were something I wouldn't want to wear in its original state. The sense that what is valuable is untouchable is strong, like the childhood admonition to look but don't touch. But such items, when they are no longer relevant, tend to be set aside. When objects or designs fall out of favor or use, they're put away and may or may not be found again. The pieces that remain relevant to the lives we lead are ultimately the ones we're able to keep track of.
The best of our ideas are like this. Our values, our faith, our commitments are not rarified notions kept apart from everyday life, untouched by our experiences. They are rather the things we take up every day, acquiring the patina of time and use, occasionally refitted to remain relevant to the life we currently live.
Fine jewelry, like a fine idea, enhances life only if we wear it. Those things we actually wear are part of how we're remembered, and become part of who we are.
What kind of jewelry do you like to wear?