If I hadn't had a role to play in the service today, I would have skipped church. With family visiting all too briefly from out of town, another cup of coffee together sounded like a better plan. But since I was needed there I drove to church instead, listening to NPR on the way.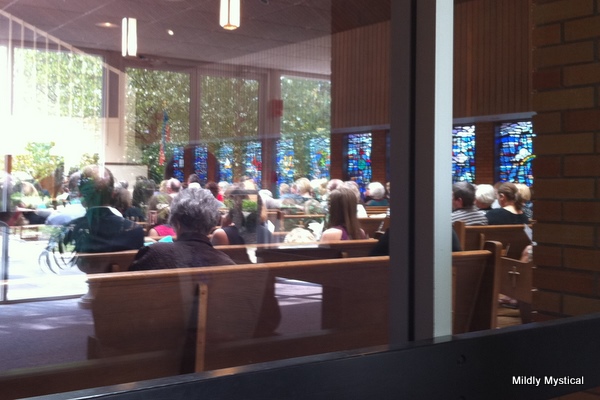 I've resisted the anniversary observances of 9/11 this year, wanting to avoid dwelling on the suffering in that event and the dismay at what has transpired since then. But the reminders are everywhere this weekend, and this morning's coverage left me feeling the weight of the past ten years.
I found myself thinking that if I had to be going anywhere I was glad it was to church. If nothing else, I was glad to be offering up the events and emotions of this anniversary with others, as part of a service that makes remembering more bearable and perhaps even more meaningful because it is shared.
As I waited in back to follow a cherubic acolyte up the aisle during the opening hymn, I had a vision of the sanctuary I had never experienced before. The glass walls at the back of the sanctuary caught the light in just the right way to reflect the trees in the garden behind the church.
The reflection of their trunks blended with the wood of the pews on the other side of the glass, so that the trees seemed to have taken root in the sanctuary. A canopy of green appeared to shelter the worshipers and the center aisle was like a tree-lined garden walk. As a breeze lifted the branches and rustled the leaves outside, the reflected movement seemed an image of the holy spirit, stirring gently among the congregation.
Knowing I couldn't possibly do justice to the scene, I pulled out my phone and snapped a photo anyway, just to help me remember. It's the picture you see here, the photographic equivalent of an illegibly scribbled note.
I've written about trees in a church before—something I find to be a meaningful symbol. That's why this scene of a worship service overlaid with the life of a garden felt like a gift. In the fullness of late-summer growth, brought to life by a gentle wind, the reflected image of the trees spoke of suppleness and fruitfulness, deep roots and new branches, life and hope.
At its best, that's what a church is all about. And because I showed up today, I was able to experience a reminder of the good that can come from people gathering together. On today, of all days, I'm glad I was there.
I'll leave you with a verse from the opening hymn we sang:
Yes, on through life's long path,
still singing as you go,
from youth to age, by night and day,
in gladness and in woe
Rejoice, rejoice, rejoice give thanks and sing.