Today is the third Sunday of Advent, when we light a candle for Joy. This is the meditation I wrote to read in worship this morning.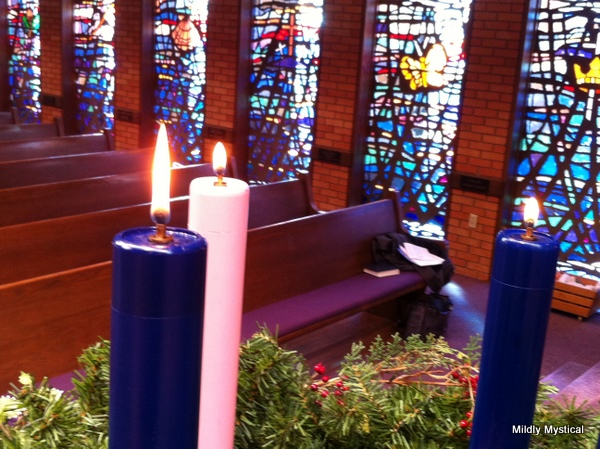 At the hour before sunrise, in the subtle turn from night to day, the world that was cloaked in darkness  gradually comes into view. Forms in the distance are hardly recognizable, then silhouettes gain definition: a mountain, a tree, a ship on the horizon. The stars begin to fade in that gray light—a loss, yes, though necessary if we're to greet a new day. Soon even the brightest planets give way, but in the half-light of early dawn we keep watching, waiting, for something more. Then the sky begins to warm, the rosy color rising from the East until it brings life to everything it touches, from the dome of the heavens above to the glow of our own skin. Morning. The golden sun. Joy.
Joy is not ours to command. We watch for it, make room for it, and feel gratitude when it arrives—a heart-opening presence, a gift from God. It can color the world like the sky at sunrise, or condense to the flame of a single candle that sees us through the night. Joy can feel like the most natural thing in the world, or the most elusive. Its light shines out in a shared laugh or a thoughtful gesture. We know joy in the experience of beauty, or when we offer our best and find that it pulls us into the flow of life.
The angels heralding Christ's birth bring to us, even now, tidings of great joy. They have amazing news of how much we matter, how near God is, and how blessed life can be. May we turn toward those glad tidings, asking that God prepare our hearts and our lives to receive God's life-giving joy.
Susan Christerson Brown