Recently I had a lesson in paying attention, something that turns up for all of us from time to time–without too much pain, if we're lucky.
I had taken the time to fill my thermos before leaving home, planning to have an organized, have-it-all-together kind of day. Unfortunately, I didn't take time to be sure it was sealed.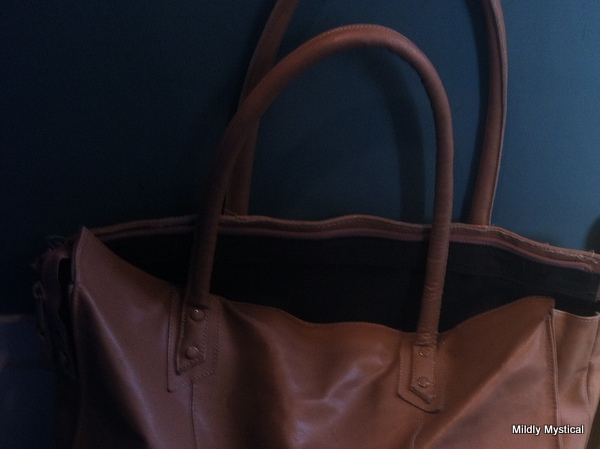 The good news was that my laptop in the same bag was unharmed, but that was because my papers soaked up the spilled coffee. Handwritten pages bled through most of the notebooks, leaving an ever more ghostly imprint on each leaf. It was a stupid mess, made by no one but me, and there was nothing to do but pull everything out and clean it up.
I wiped the cover of my computer and set out the waterlogged paper to dry. I used a paper towel to soak up the liquid remaining in the bottom, all the while appreciating the excellent design decision to make the lining black.
But as I dried the interior I felt something beneath the lining—actually several somethings crowded together under there. I checked the inside pocket and sure enough, found a hole. It was an opening in the bottom corner, hardly noticeable but plenty big enough for a pen to work through. I made the opening a little bigger until I could get my fingers around a pen that had fallen behind the lining, then another one, and another. Suddenly I knew why a whole package of my Pilot fine-point gels had disappeared.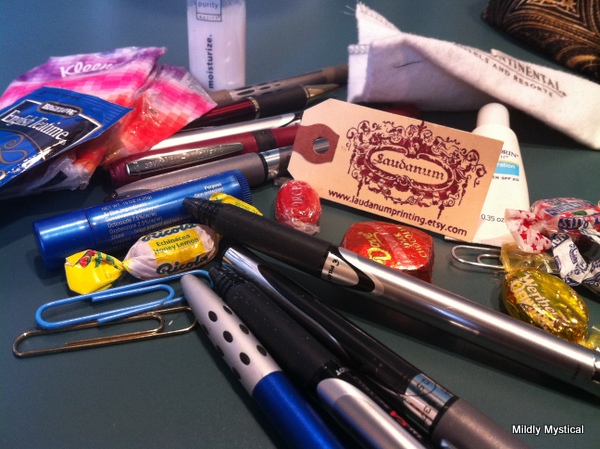 But there was more—a bottle of lotion from the Hampton Inn, a package of Kleenex, two tubes of lip balm, and a card from Laudanum Printing that I kept as a reminder to check their Etsy site. There were several paper clips, Riccola cough drops, plus a Hall's, a couple of Dove dark chocolates, a Luna bar, a shoe shine mitt from the Inter-Continental in Seoul, and a sealed bag of Bigelow's English Teatime.
All these important items I had squirreled away, thinking they might be necessary, only to have them disappear into a black hole in my bag. Who knows how long I hauled this stuff around, completely inaccessible but crowding my space and weighing me down. If these things were so important, how could they disappear without my noticing?
I can't help wondering what other long-forgotten necessities are crowding my life, or what else I'm lugging around in my metaphorical baggage. What's really essential, right now? What would happen if I could pay attention, fix the hole, and stop feeding the bag?