Something within us knows the value of a new perspective. It comes through when we get the sense that it's time to get away. One person's restorative weekend might be another's tedium, but whether it's a shopping excursion, a sports event, a hike in the woods, a visit to a gallery, a hobby convention, a mission trip, or simply being any place but here, sometimes a change of scenery is exactly what we need.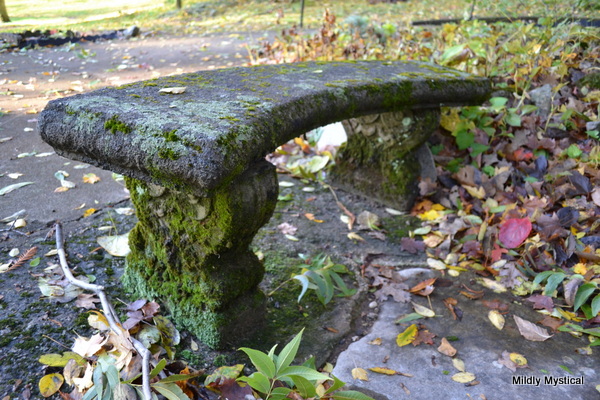 A retreat is another kind of getaway. It isn't about activities or entertainment, but comes from the desire both to find rest and to be awakened through quiet time in peaceful surroundings away from everyday life.
Recently a friend and I spent a couple of days on retreat at the Sisters of Loretto campus near Bardstown, Kentucky. On my own, I probably wouldn't have made it happen. Unlike so many other events and commitments, a retreat doesn't clamor for its place on the calendar. But once we started talking about the idea, we created enough momentum to make a plan and see it through. I'm glad about that, because the effort resulted in a lovely experience that is all too rare.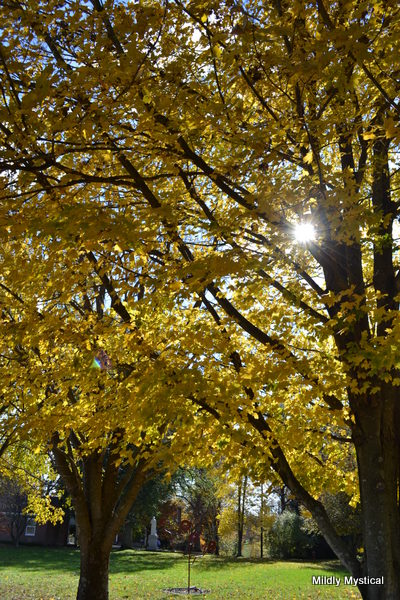 The tricky part of going on retreat is that the mindset that puts it in place—the planning and packing and logistics of getting there—is exactly what needs to be set aside once we arrive. A to-do list pretty much defeats the purpose of relaxing and spending time away from our schedules. So I tried to go without an agenda, and with the idea of listening for whatever it was I needed to hear. But I also tried to be ready for anything. I took books and writing paper, my computer and journal, good walking shoes and my camera, along with the scarf I was knitting. Maybe someday I'll master the art of traveling light.
The sisters have a library available to guests, where I found a book by Richard Rohr that turned out to be perfect for reading during my time there. Everything Belongs is a meditation on God's presence. (Below is a note that one of the sisters left about the rearrangement of their shelves.)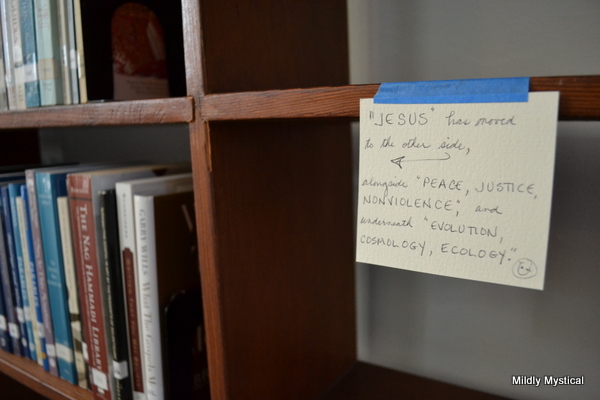 But the ideas I encountered in Rohr's book found their most eloquent expression after a storm on the first night. Through hours of darkness I had heard the wind tearing through trees and battering the brick and old wood outside my window. Yet the next morning broke chilly and clear. The night seemed almost a bad dream, except that the wind had brought down thousands of pecans from trees all across the grounds. Along the walkway to the guest house, on the path to the pond, among the stations of the cross, around the cemetery, they were everywhere.
"Take some with you," the sisters urged. And I did. Like a chipmunk stuffing its cheeks, I filled the pockets of my jacket until the fleece could stretch no further. Abundance. Enough for the woman I met, kneeling on the ground, filling her bag as she remembered the shelled pecans that were her grandfather's gift of love and work at Christmastime. Enough for the two who filled the hood of a third friend's sweatshirt, worn like a bulging backpack. Enough for others who would stroll the grounds after we left.
Now that I'm back home, the pecans I gathered remind me to breathe and remember that God is present. They remind me of abundance—gifts stumbled upon in the wake of the storm, a harvest to crack open and enjoy through winter days to come.