I'll soon be leading a class exploring different ways to pray, which brings up the question of how to begin—for both a class and a prayer. One possibility is to begin as Ignatius taught, by asking God for what we want our prayer to yield. Asking for what I want is not something I'm good at; maybe looking at that is a good place to start.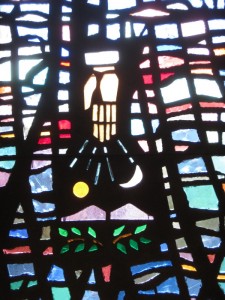 When Jesus teaches about prayer in the gospel of Luke, he gives us more than the model of the Lord's Prayer. He also tells the story of a man who receives what he needs because of his persistence in asking for it.  Then Jesus offers this assurance to his followers:
Ask, and it will be given; seek, and you will find; knock, and the door will be opened.
I love this passage, its comfort and encouragement, but it raises questions, too. Earlier in my life I assumed there were limits on what I could ask for, and that the possibilities for asking were on the other side of a high wall. Janis Joplin's song made me smile, but I didn't want to be guilty of praying "Lord Won't You Buy Me a Mercedes-Benz." I didn't know what to ask of God, and didn't trust myself, or God, enough to find out.
It took me far too long to learn that it's ok to ask for whatever I need. The mindset of not asking is a stew with many ingredients; and I simmered in it for a long time.
Now I don't worry about asking too much; I wonder if I ask too little. There may be no limit to the possibilities if we trust that our asking, seeking, and knocking will all be answered. The potential for change is actually unnerving.
Now I think we can ask freely for what we deeply want. We can expect God to meet the longing beneath the things that we desire. And if our vision is not clear, and we pray for a surface need that we mistake for the deeper one, we may find our prayers answered in ways we didn't expect. God will meet the hidden and genuine need beneath our wishes, even if we do not know how to ask.