I still read the old-fashioned newspaper, the kind you can carry around and spill coffee on and it's no big deal. One of the things that keeps me connected to the local paper is Paul Prather's religion column, one of my main motivations for reading the Saturday morning paper. We don't approach religion the same way, but I look forward to his thoughtful reflections, his candor, and his utter lack of pretension. And he's a good writer.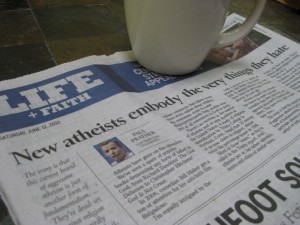 His most recent column is worth passing along to you. He looks at the thread of anti-religious thought threading its way into Western intellectual life through the proponents of the "new atheism." Here's a quote from Prather's column:
The irony is that this current brand of aggressive atheism is just another form of fundamentalism. These particular atheists are zealots on the subject of faith who see no shadings of gray, only black and white. They're dead-set against religion but weirdly obsessed with it.
It's a subject that Karen Armstrong also addresses in her excellent book, The Case for God. (I've written about Armstrong's book in the posts, Opening to the Sacred and A Church of Unknowing.)
There are some received notions of God that I'm all for rejecting. But the range and complexity of religious experience makes a simplistic dismissal of religion irrelevant to any thoughtful conversation. It's short-sighted to deny that the source of spiritual and artistic inspiration—silence, awe, reverence, connection, inspiration—have a place in a thinking person's world view. It's not simply a denial of the existence of God, it's an impoverished view of humanity.
When I don't believe in the same God that the atheists don't believe in, it's hard to take seriously their critique of religious thought. Yet many people seem to. Ironically, the counter to their pseudo-rational message is the thoughtful voices of those with a deep understanding of what religion is and their experience of it. The world needs the clear thinking of those who value their faith.
What God do you not believe in? What helps you name the God you know?