Walking in the early spring air this morning, I got by with a light cotton jacket. Yet the weather remains cool and damp. Green fronds push up from the ground, but the skies are grey. Trees are full of birdsong, though the bare branches appear unchanged since winter.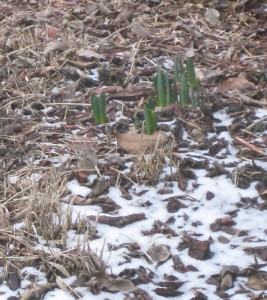 This almost-spring feels nothing like winter, yet there is no blossoming. As if the earth is saying: This, today, is what I can do. I can bring forth this much, but for now I can go no farther.
And the slow warming is enough. The turning of the seasons is exactly this; nothing more is needed. There is no hurry, no catching up to do. All is sufficient.
***
It's tempting to discount those efforts we are able to make. How do you make peace with the limits of what you can do?