Lately I've revisited stories from the Bible in a new way, serving as a storyteller for children's worship at church. Following the "Children, Worship, and Wonder" program we rely on, I've learned to present the stories in a ritualized way.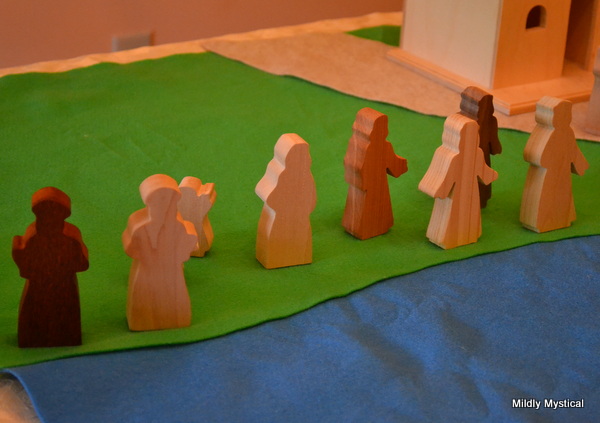 During Worship and Wonder, children experience sacred space created especially for them. Influenced by Montessori practices, each story has its own materials, stored neatly on a wicker tray and placed in its particular spot on a low shelf. Once the story has been told, it is available for the children to work with on their own for the rest of the year.
As in the Bible, these stories are told using relatively few words. They are acted out with simple but beautiful materials crafted from wood and sanded to a natural finish. There are quiet pauses to allow the parts of the story to sink in.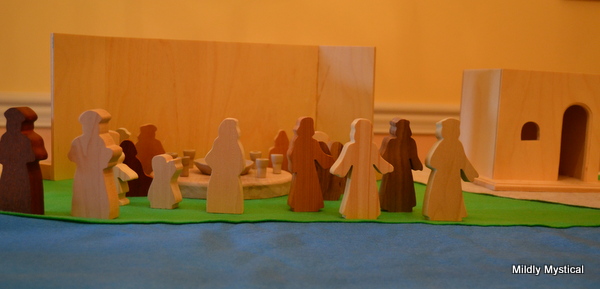 The action of the story might be played out on an expanse of felt representing the Sea of Galilee or in the sand of the desert box. The characters move, they make decisions, they speak, they react to what happens, things change.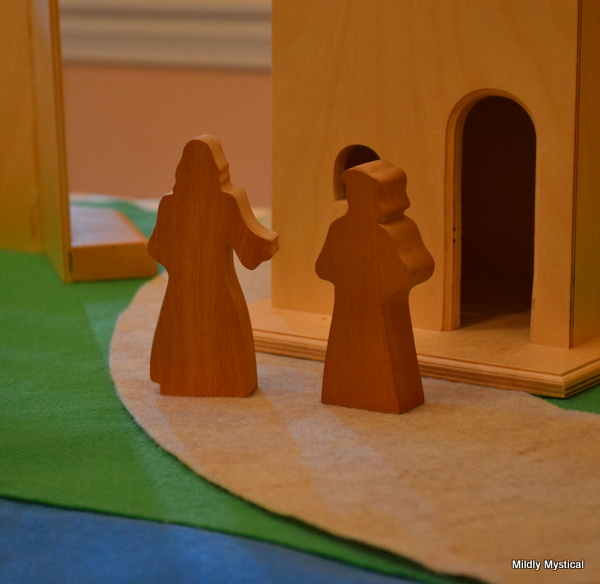 In telling stories this way—mindful of the setting, allowing pauses between lines, showing a character's response through action—I've become aware of the spaces within the story. There are moments when the action might have played out differently, where a person might have responded in another way, or where other conversations might have occurred. The drama grows, the questions multiply, the possibilities increase.
It's a contemplative way of entering the story, leaving room for something new to appear. It brings an element of Ignatian spirituality, a practice established by Ignatius of Loyola, founder of the Jesuits. In Ignatius's Spiritual Exercises, a practitioner places himself in a scene from the Bible, brought to life through the imagination. She imagines taking part in an episode from the life of Jesus, watching to see what happens and listening for what might be spoken to her.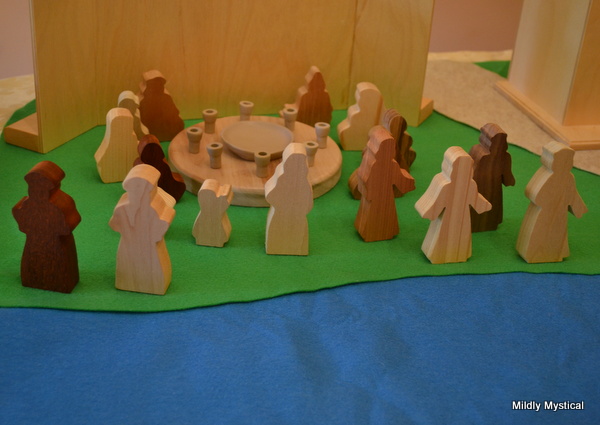 Children easily and naturally use their imaginations to enter a story, offering ideas of what people might have said, how they might have felt, or what they might have done next. This way of dwelling in a story creates a sacred space where the spirit can work. Seeing this happen is a reminder of the power of story for all of us.
At the end of the hour, the storyteller gives each child a blessing before they leave. It's a quiet moment, one-on-one. On a recent Sunday I knelt at the door to speak to a child at her eye level. I told her I was glad she was there at Worship and Wonder today. "I'm glad you were, too," she whispered.
I hadn't expected to be the one blessed.