I'm fascinated by the limestone fences that line the Central Kentucky landscape. Constructed without mortar by skilled builders, many of whom were itinerant Irish and Scottish masons, they can endure for centuries. The Dry Stone Masonry Conservancy teaches this almost-lost art to local masons, preserving and spreading the knowledge that allows the old rock fences to be repaired and maintained in the original way, as well as new ones built.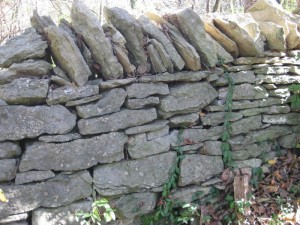 To study a section of stone fence is to appreciate the depth of attention brought to the work. Rough and irregular stones are layered without gaps, as if each settled naturally into its place according to its nature. Even the smallest stone is an integral part of the whole, filling a space that would otherwise weaken the structure. Made of limestone from the surrounding fields, the fences come from the land and fit easily into the landscape. They were built from the necessity of working with materials at hand. They belong.
Labor and skill are apparent in these old stone fences, but so is a sense of reverence for the world as it is. The builders worked with the nature of the stones, so that the textured unity of the fence is not imposed through conformity but coaxed from diversity. The strength and beauty of a rock wall comes from working with what is given, carefully determining the placement of each piece so that is part of a cohesive whole. Nothing is forced; every stone is different. Yet put together in the right way the stones yield a structure that is beautiful, cohesive, and strong. Each stone lends its strength to something that endures.
The building method works because the stones are different shapes. They don't just sit side by side, they fit into each other. Scattered across the ground, the stones don't look like building material. They're just rocks. They suggest nothing of the potential seen by a mason. But placed by a master builder, they become part of something beautiful and enduring.
In the same way, it can be hard to see what the scattered parts of our lives add up to. Sometimes we lack the perspective on our selves, or on our communities, to see anything more than a rocky field. At those times it helps me to remember that I'm not the mason. In spite of everything I try to do and learn and accomplish and create, there is only so much improvement of myself or the world that I can bring about under my own power. But there is a master builder who has the vision to make something good of my life and its odd-shaped elements, and of this world and its rough-edged inhabitants. There is good work in progress.
What helps give you a builder's perspective?