When Cynthia Bourgeault introduced the contemplative practice of centering prayer at the Festival of Faiths in Louisville last week, she spoke of different practices and traditions as being like colors of the rainbow. Each color is part of the one light, a unique and beautiful aspect that informs our understanding of the light.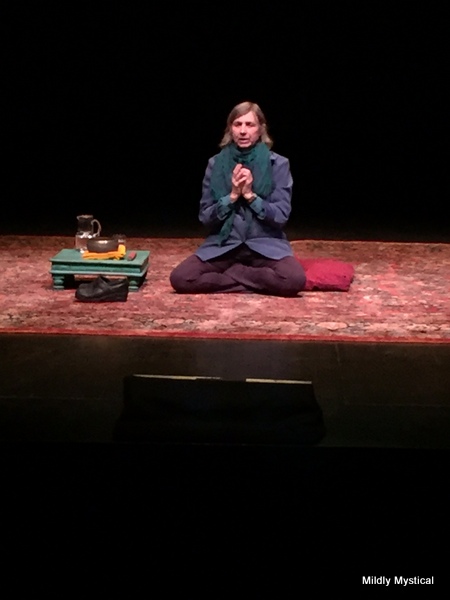 I was eager to attend Bourgeault's talks because her book, The Wisdom Jesus, has been so important in opening my reading of scripture. She is tiny, a package of concentrated energy. Calm and unassuming, with a delightful sense of humor, she bristles with life as she teaches.
Meditation is like putting a stick into the spokes of the monkey mind, she said. It's all about noticing our thoughts, seeing our patterns of thinking, and letting them go.
Whether we call this practice meditation, centering prayer, or something else, it's a practice of making ourselves available to a higher mind. It's an intention to move beyond the machinations of our calculating ego.  As Bourgeault puts it, centering prayer is a practice of returning to God whenever we notice a thought arising. How does one let go of a thought? She demonstrated by standing onstage with her arms outstretched, holding a stick in one hand. She opened her hand and allowed the stick to fall to the floor. Just like that. Let go.
This inner action of letting go becomes the outer action of letting be, she told the audience. It's hard to value this spiritual practice at first. What can it possibly accomplish? What's the point when there are so many other things that need doing?
But in this practice of gently releasing the mind's tyranny, we open ourselves to another way of perceiving. We practice another way of being. For a brief time we allow a higher wisdom to move through us, and slowly learn to permit that flow in more and more aspects of life. We get beyond how the ego thinks things should be, and learn to be present to what is.
Bourgeault describes this as putting the mind in the heart, yielding a new way of perceiving. She calls it the key to practicing compassion. This deep sense of compassion, beyond what she terms ego and activism and do-goodism, is putting on the mind of Christ. From this place true transformation happens.
As we practice this way of being, we place ourselves in the presence of God. As we get out of the way we allow God to flow through us. As we let go of our ego's agenda we become available to the flow of our authentic life and experience our connection to others.
The energy in the room was palpable as Bourgeault led us in a silent session of centering prayer. I understood for the first time where the phrase "tugged at my heartstring" comes from as I experienced just such a tangible sensation.
Sitting in meditation it looks like nothing is happening. But there's more to our lives than what meets the eye.