We had a cool snap here in Central Kentucky this weekend. Combine that with the start of school coming up and we're on notice that here in the fullness of summer, fall will be upon us soon. Not that it comes as a surprise, but every year it takes more than store mannequins dressed in wool for the reality to sink in.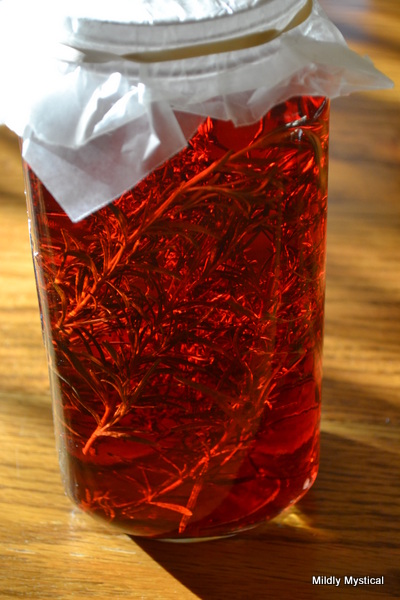 Another summer is slipping away, but I'm holding onto the fragrance of rosemary under the afternoon sun for as long as I can. Time passes but when it's infused in red wine vinegar, thyme can linger a while.
How was your summer? It's a natural enough question to ask during a season of transition. But there's another question behind that one. What was your summer? Did it bring what you hoped for? Did you plant a garden—literally or figuratively? Did it thrive? What did it yield? Did you learn something, do something, enjoy something? Did you fight weeds, endure drought, manage to keep something alive?
For those who preserve their garden's abundance, rows of canning jars or packet-laden freezers mark the summer's accomplishments in a tangible way. I'm making herb vinegars this year, but summer's end is more a matter of stocking the psyche's pantry for the months ahead. It's been good to spend time with those I love, pursue creative work, and clear out some clutter. I hope to keep those fruits of the season with me, and I hope you have a harvest to enjoy as well.
Is there anything else to do before summer ends? What shall we take on this fall?