I've recently read two good books: Women Food and God by Geneen Roth and The War of Art by Steven Pressfield. At first glance they seem to be about very different subjects—making peace with food and making art. But reading them in close proximity has me thinking about them together and finding connections I didn't expect.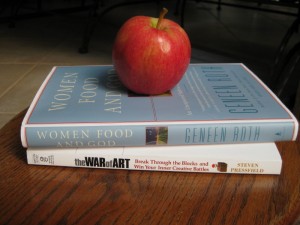 Geneen Roth's work arises out of her experience with compulsive eating and her years of helping others separate food from the emotional issues tangled up with eating. But her insight is into addictions of all kinds. Seeking refuge in the addiction is how we abandon ourselves, withholding the attention to our own hearts that can show us what we most need to know.
She describes it as:
an attempt to avoid the absence (of love, comfort, knowing what to do) when we find ourselves in the desert of a particular moment, feeling, situation. In the process of resisting the emptiness, in the act of turning away from our feelings…we ignore what could utterly transform us.
Steven Pressfield's work is about overcoming the resistance that arises in anyone attempting to do something new. An artist must recognize and conquer the impediments that inevitably arise when we try to shape a new creation, realize a new vision, or express a new idea. Resistance would enforce the status quo, having us abandon our risky calling and with it our highest self.
He writes:
To yield to Resistance deforms our spirit. It stunts us and makes us less than we are and were born to be. If you believe in God (and I do) you must declare Resistance evil, for it prevents us from achieving the life God intended when He endowed each of us with our own unique genius.
Both writers see the work we're called to do as deeply connected with the divine. Both understand how easily we are kept from that work, and the heartache that ensues. Roth urges us to remain present to ourselves when we're tempted to flee. Pressfield insists that we show up to do the work even when it feels impossible. They are connected.
Being present to ourselves allows us to do the work. Doing the work makes us present to ourselves. Both place us in the presence of God. Taking refuge in addiction is a kind of resistance to the life we're called to live. Allowing resistance to come between us and our true work creates a false refuge in which we can never find a fulfilling life. Both are an attempt to hide when God calls our name.
An addiction cuts us off from the Tree of Knowledge standing in the center of the Garden. But as soon as we bring our attention to our behavior, to the thoughts and emotions driving it, the addiction shows us the way back. Likewise resistance keeps us out of the garden we were created to tend. No other work will give us satisfaction until we climb over the walls that stand between us and our calling.
What's the next step leading back to the garden?