I had a chance to visit the Red River Gorge over the holidays—a brief but beautiful drive with my family on the return trip from a Christmas visit.
We arrived at dusk, knowing our time was limited but wanting to see all we could before dark. The main road was snow-covered and a new snow had fallen, softening the landscape and offering up each bare tree and dark evergreen in clear contrast against the field of white.
It was immensely quiet there. The trees closed overhead and the light faded as we wound down to the river. As night began to fall, the snow reflected what little light remained. It held off the darkness, creating the sense of a moment outside of time in an otherworldly place.
Robert Frost's words kept echoing through my mind: "The woods are lovely, dark and deep." Gazing into awe, I was humbled by the power and mystery of this life.
The Gorge, a place of dramatic beauty, sits right off the highway. We usually drive by it on our way to somewhere else. But stopping by those woods on that snowy evening was a memory, and perhaps even a glimpse of eternity, to hold for a long time.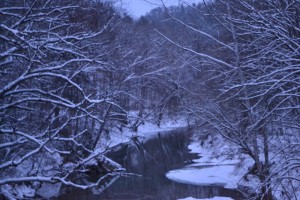 Have you had a glimpse of the eternal?