I've begun reading Barbara Brown Taylor's An Altar in the World, a title that speaks to the significance of our embodied lives and our daily experience of the world around us. Her book explores the meaning inherent in our physical existence. The chapters describe ways of inhabiting our bodies and our lives that help answer the spiritual longing for more—" more meaning, more feeling, more connection, more life."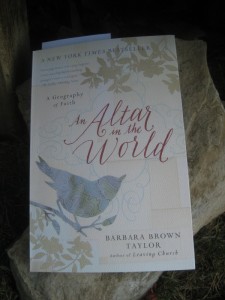 "The accumulated insight of those wise about the spiritual life," she says, "suggests that the reason so many of us cannot see the red X that marks the spot is because we are standing on it."
The friend who recommended this book called Taylor's "an earthy spirituality," and it is exactly that. She rejects the separation of earth and spirit, of body and soul, found in many spiritual writings. She sees that split as more an injection of the history of Western thought than the essence of a life of faith. She makes the point that Christianity at its heart reveres the life of the body through its reverence for the Incarnation. In her words, Christianity takes body and blood very seriously.
Barbara Brown Taylor is an excellent writer and I am finding both pleasure and meaning in her work. I appreciate the way she describes the practices that keep her grounded in the world and, at the same time, connected to the divine.
But the question that keeps prodding me is one she lifts up in her introduction, a question from which her book arises. Asked to speak at a church gathering, she inquired what the priest wanted her to talk about. In his wisdom, he went straight to the heart of life and asked her to "Come tell us what is saving your life now."
There's a question. What is so important right now that our lives depend upon it? How do we hold onto what will give life meaning or at least keep us from the pit of despair? Our answers change, but the question remains essential. I'm learning something from how she answers that question, and thinking about how to answer it for myself. I think conversations in which we can share the things that are saving our life are themselves part of what saves us.
For me, the process of learning to see helps. I'm learning to see how the spiritual resonates in the physical world, learning to see patterns in how life unfolds, learning to more clearly see other people. I think that learning to see is a way of learning compassion, as well.
So I would love to hear—What's saving your life right now?