Looking through old glass feels a little like standing outside of time. The wavery, watery pane distorts the view just enough to hold it in perspective, as a fleeting moment in the long passage of years. It holds the scene at a distance, even as it offers a reminder of life's fragility. An old window softens the world.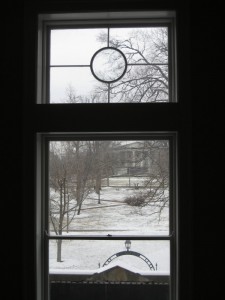 The old glass reveals motion I cannot perceive otherwise: the imperceptible turn of the earth with its accrual of days into seasons, a year, a lifetime; the pull of gravity over time, drawing down the pane into ripples and waves, pulling at my body in the same way. All the moments count, no one of them more or less than another, which is hard to take because that's not how we see our lives.
Time passes without our noticing, yet it leaves its mark. The view through old glass notes the brevity of a moment, even as it attests to the lasting change a moment's passing leaves. It's an image of the weight of the past, and of the vitality that sets this moment apart.
It shows our days to be part of a long unfolding, part of something larger. At the same time, it invites an appreciation of the moment as all we have.
If I could see the view through the other side of the glass, look through the curving lines of light at myself, would I understand something more about my life?