A couple of weeks ago Kentucky sweltered through a summer that had far overstayed its welcome, as a string of 90-plus degree days begun in August disregarded the beginning of fall entirely. Then last week everything changed: I put an extra blanket on the bed, huddled with a cup of tea against damp gray air and wondered how much longer we could get by without turning on the furnace. But now the warm, golden afternoons of the past few glorious days remind me of why October is my favorite month.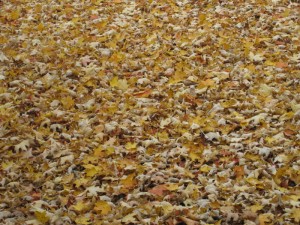 There is no lull of sameness to these days. When the world we move through shifts so dramatically, it claims our attention. A changing environment heightens awareness of what's going on around us. Especially when the haze and humidity of late summer gives way to the bright blue skies of autumn, the shift in seasons is like waking up.
Fall is a gift—a powerful reminder to live wakefully. A lot is happening. I hear it from the raucous crows convening in the tops of the ash trees. I see it in the spiders looking for shelter indoors, the plants going to seed. I feel it in the new wind picking up.
The urgency of the transitions teaches us to notice. And to appreciate. The season's end offers a sense of the great effort behind its growth. As the energy that infused blossom, fruit, and harvest withdraws, the withered vines mark with startling contrast a place where life has been. It also signals the necessary rest before a new cycle of growth will begin.
The force of life in a growing season is a marvel, and the efforts we make during our own periods of growth can be fairly miraculous, too. Often it is only at the completion of some phase of life that we can take a breath and see how much we've accomplished, even as we wonder how we managed to do it. In the thick of things we are rarely able to see how much is happening. Yet something within continues to strengthen us, helping us grow green and supple enough to rise and meet the next challenge, too.
I don't know how much of the credit is ours for times of growth and moving forward. There are periods I can look back on with a sense of satisfaction at the hard work accomplished. But when I consider those times it's also with a sense of awe at the life that has moved through me. I feel grateful to have served as a vessel for something good, and I hope it might happen again.
What are you noticing this fall?