Some weeks I feel like nothing more than clay thrown on the potter's wheel. Hollowed out by forces beyond my control, I see once again that I am not in charge here. Life presses in, making it clear that I have not reached my final form. The potter is not finished with me.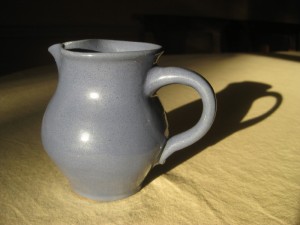 Yet just as I've been pressed and pounded, I've also been stretched and shaped. The vessel's curved sides are taking shape, rising in accord with the potter's vision in these last few turns of the wheel.
We have a great deal of freedom in what we do with our lives, but we are not in control. Sometimes the best I can do is to be good clay. I can try for the balance of malleability and resistance that allows the formation of a good vessel. I can try to sustain the cohesiveness that allows good clay to hold its form.
The sum of the past several days may feel like more than I can hold—challenge and loss, hope and disappointment, love and sorrow—yet the week has nonetheless brought all of it. So I act as I am able, and respond as I can. I cannot assuage my friend's grief, but I can offer soup and love. I cannot make the world kind, but I can make laundry clean. I cannot make life easy, but I can be grateful for the ability to work.
I cannot see the future, but I can appreciate the beauty of the world around me. I cannot make my wishes come true, but I can take a risk and reach toward them. I can neither force nor forestall change, but I can accept the love and grace that remain constant.
The wheel keeps turning; a hand I trust remains on the clay. All will be well.
What is the turning wheel bringing to you?