For the past few weeks I've had a single silver earring hanging from the stand on my dresser. The forlorn half of a pair, it hasn't been worn since the day I lost its mate.
I looked everywhere I could for the missing dangle—in the weave of my sweater, the folds of my scarf, the lining of my coat; behind the seat cushion of the car, in the carpet on the floorboards, among the detritus of a day of errands; on floors and countertops and inside grocery bags. I could only conclude that it lay somewhere among the miles of parking lots and store aisles I had crossed that day.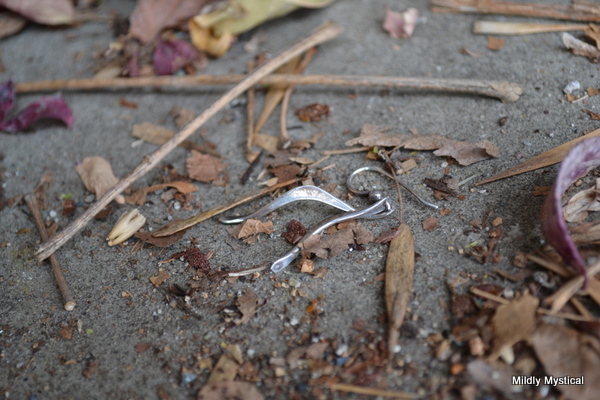 The earrings were a pair I wore often. They were simple and well-formed, bought years ago from a local artist. Back then I stretched a bit to afford them, though given their price per wearing they were a bargain. I was sad to lose something that fit so well into my life.
Today an easing of winter's onslaught inspired me to sweep the garage, motivated mostly by the prospect of less dead leaves, dirt, and crud to track into the house. Pushing a mound of debris in front of the broom, I noticed a glint of light. When I stopped to look, yes, there was the earring missing for these many weeks.
I had examined the garage floor in my search, and since then had crossed and re-crossed the path where that familiar silver form must have fallen. But somehow I missed it.
Not until I swept things clean, tumbling the leaves and dirt and trash together, re-ordering that small part of the world, could I find what I had searched for so diligently and nonetheless overlooked. There's a lot to be said for a cleaning binge. In sweeping out and putting things in order, there's no telling what you'll find.
It pays to do the chores with eyes open, to notice what gleams among the debris. It helps to have some idea of what we're looking for as well. Remarkable things, even the things we search for, sometimes show up in unexpected places.
What are you looking for?