I've recently spent time wandering through some of Ireland's ancient monastic sites, and I continue to think of those monasteries and the beautiful settings where they were built. The buildings are in ruins now, emptied by war and worldly powers. Yet for a time these sites were a refuge for books and learning, and a place where Christianity met Celtic culture in a way that strengthened both.
Who could have anticipated the value of these sanctuaries to the centuries that would follow? The books copied by the monks in their scriptoriums salvaged Western learning after the fall of the Roman empire. Today, the religious impulse that gave rise to them permeates the walls that remain standing.
The stone structures with roofs open to the sky are beautiful remnants, the outward form of an encounter with God. Even more, the sense of divine presence in places like Clonmacnoise and Glendalough invites the pilgrim to seek his or her own encounter with the Source.
I happen to also be reading an exploration of prayer by Ann Belford Ulanov and Barry Ulanov, called Primary Speech: A Psychology of Prayer. It's an encouraging and inspiring description of what prayer can be. The divine intersection of my travels and of reading this book is something the Ulanovs would see as an answer to prayer, with God's response often found in the small events of our lives.
In Primary Speech, Ann and Barry Ulanov offer insight into what happens when we bring our full selves to prayer—all our thoughts and feelings, our dreams and regrets, our best selves and our worst. Through prayer, whatever we bring to God is transformed. In bringing everything to prayer we open ourselves, and our lives, to being shaped by the divine—not in a way that denies our individuality but in a way that brings out the brilliance of the gems we were created to be. Prayer opens us to be healed and strengthened, our lives made larger and more joyful.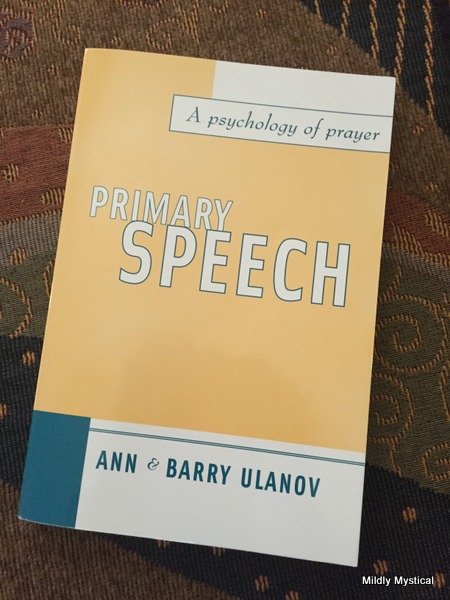 We can't transform ourselves, but we can allow God to continue creating us. When we act on our deep impulse to pray, we experience the God who is always at work in our lives and who responds to our prayer in a variety of ways, which we will notice if we pay attention. Prayer opens a window to the stuffy room of our limited mind, and God is the fresh breeze that enters.
Paul Prather's recent column on prayer in the Lexington Herald-Leader underscores this lesson for me. In his eloquently straightforward way, he says that even pastors are subject to forgetting to pray when life gets busy. But his recent recommitment to spend quiet time with God every day, even for just a few minutes, has brought him refreshment in the midst of a stressful life.
Prayer changes things. It changes me and it seems to affect the world around me. I'm a novice at prayer and may always be so, but beginner's mind is not a bad thing. Who knows what might be possible?