Every day, I fill a pitcher with water from the tap. I appreciate being able to drink when I'm thirsty, and sometimes remember to be grateful for the rain that fills the river. Water sustains my life. It becomes part of me; I am intimately connected to its source. But sipping from my glass does not allow me to claim the river.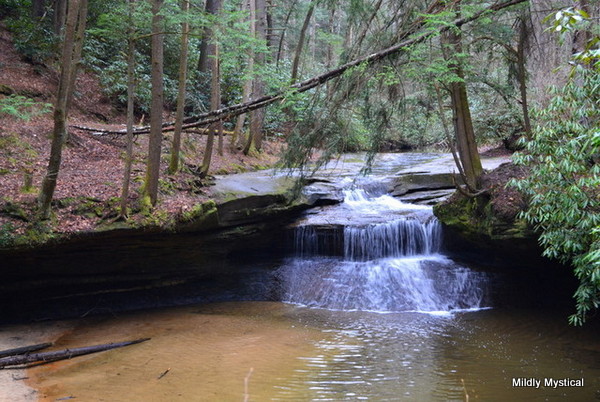 Going to the river is an entirely different experience. In Kentucky there are hundreds, thousands, of places where I might walk along the banks or step among the stones above the water's surface. Where the water flows clear I can look through to pebbles lining the riverbed and fish darting among them. Where stones are slick with algae there's always a chance of falling in. I can wade in the shallows or perhaps swim in a few places. The deeper, swifter water requires a vessel and some companions. A guide is helpful where the river churns white.
A close-up look at water's edge is unlike the changing perspective from a boat, or the wider scene from atop the palisades. Even with a view from the air I can see only part of the whole river. Its long path is too much to take in at once, and yields infinite variations according to time, weather, and season. A blue line labeled on a map is easily found, but tracing the map is not the same as knowing the river.
It's terrible that many rivers are so polluted we can't swim or fish in them. Individually and collectively, our hubris has sullied what we need to survive. Yet even these tainted waters remain essential. We filter out the toxins the best we can, reclaiming the water we must have to live.
I can't simply fill a glass with water as a way to know the river, much less hold the river in my hand. Neither can I quote the Bible and expect a scriptural sound bite to convey its teachings. Discernment is an important aspect of grappling with scripture; it's not as simple as fishing out a pertinent chapter and verse.
The Bible is not a code of law or a constitution from which we draw off rules as we would draw water from the tap. Scripture is a conversation, an exploration that began thousands of years ago. It contradicts itself. It speaks in different contexts. Scripture is rich and varied, and to engage with it is to create an opening for wisdom.
To wield the Bible as a debate tool is to miss being part of its life-giving flow. Scripture can be experienced in a thousand ways throughout a lifetime, but to use it against others is to waste it. It would be absurd to throw a glass of water in someone's face and declare that I'm acting on behalf of the river.
A line of scripture can offer hope or inspiration. It can be a reminder of the richness to be found in the entirety of the Bible. But separated from its context the passage eventually becomes a stagnant pool. Water separated from the flow of the river grows foul and breeds pestilence.
I am grateful for a glass of water. I am humbled and in awe of the river from which it flows.