Part 3 in a series on Breath Prayers
The Psalms show us that any emotion offered to God is appropriate for prayer. Nothing is off-limits. Psalms express grief, despair, vengefulness, fear, rage, and desolation, as well as thankfulness, hope, faith, trust, celebration, and joy – to name a few. Every aspect of who we are is acceptable to bring to prayer.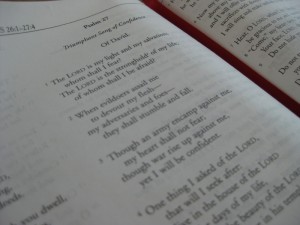 Within the vessel of prayer, emotions that might feel overwhelming in another context are held within a relationship with God. We bring our emotions to God, and recognize God's power to reach us through them. We allow the possibility of being transformed.
There are many ways to pray the Psalms, including finding lines within them that can serve as breath prayers. Many lines of the Psalms are paired, echoing a thought in different words that may suggest a slightly different meaning. Reading them is like looking at a sculpture, taking a step left or right, then looking again from a slightly different angle. Sometimes the shift in perspective shows something we didn't see before.
A breath prayer can use one or both of the paired lines. A single line might be said in one breath, in and out. A pair of lines will probably require two breaths. To learn more about breath prayers, have a look at:
Part 1 of this series, "Breathing a Prayer"
Part 2 of this series, "Simple Prayers that Fit our Lives"
The Psalms hold a lifetime of possibilities for breath prayers. Here are a few lines taken from various Psalms, using the NRSV translation:
*
The earth is the LORD's and all that is in it,
the world, and those who live in it.  (Psalm 24)
*
Be still and know that I am God.  (Psalm 46)
*
Create in me a clean heart, O God.
and put a new and right spirit within me.  (Psalm 51)
*
You show me the path of life;
in your presence there is fullness of joy.  (Psalm 17)
*
May God grant you your heart's desire,
and fulfill all your plans.  (Psalm 20)
*
O my God, I cry by day, but you do not answer;
and by night, but find no rest.  (Psalm 22)
*
How long, O LORD? Will you forget me forever?
How long will you hide your face from me?  (Psalm 13)
*
Relieve the troubles of my heart,
and bring me out of my distress.  (Psalm 25)
*
O my God, do not be far from me.  (Psalm 38)
*
The LORD is the stronghold of my life,
of whom shall I be afraid?  (Psalm 27)
*
As a deer longs for flowing streams,
so my soul longs for you, O God. (Psalm 42)
*
You desire truth in the inward being;
therefore teach me wisdom in my secret heart.  (Psalm 51)
*
Cast your burden on the LORD,
and God will sustain you.  (Psalm 55)
*
In God I trust; I am not afraid.  (Psalm 56)
*
O LORD, Make haste to help me!  (Psalm 70)
*
This is the day that the LORD has made;
let us rejoice and be glad in it.  (Psalm 118)
*
On the day I called, you answered me,
you increased the strength of my soul.  (Psalm 138)
*
Give heed to my cry,
for I am brought very low.  (Psalm 142)
*
Teach me the way I should go,
for to you I lift up my soul.  (Psalm 143)
*
Let everything that breathes praise the LORD!  (Psalm 150)
*
What are your favorite lines?