Early in his life, Leonard Cohen prayed to be able to make some response to beauty. I've been dwelling in the richness of that statement for days.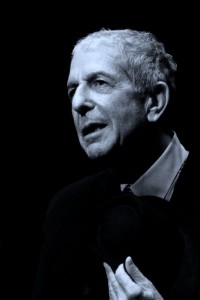 To utter such a prayer is to already have the grace of appreciating beauty, of having one's eyes open to its presence in the world. And to ask for a way to respond is an enlightened longing. It does not seek to possess what is beautiful, to claim beauty for oneself. It measures value according to something beyond what serves an individual life. It asks for the power not to claim creation, but to participate fully in it.
The power and complexity of Cohen's work, the ability of his music and lyrics to break open the heart, is a testament to his answered prayer. He looks hard at life, all of it, and makes of it something mysteriously, achingly beautiful. His work makes me want to live in poetry, even though he says of poetry that when your life is burning well, poetry is just the ash.
If his poetry is ash, then his life has burned like the bush Moses encountered.
The Holy Spirit moves in wonderful ways, including through friends who put amazing things into my hands. The film, I'm Your Man, is such a gift. It's a moving film, featuring interviews with Leonard Cohen and performances of his music by various artists.
His breathtaking song, "Hallelujah," has been performed by many talented people. Jeff Buckley's rendition is wonderful. And there is nothing like its powerful performance by Cohen himself.
What shall we pray for? And how shall we respond to beauty?
You might be interested in reading my Love Letter to Leonard Cohen.