A friend recently shared with me her sense that everyone we meet is an expression of the divine. Maybe that's what is implied in saying that we're all children of God, but her way of stating it captured my attention.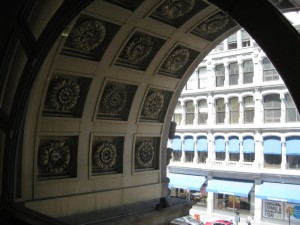 A day later I was on a plane for New York City, and her words remained with me while I was traveling. As other passengers claimed their seats, I considered the greater connection we shared. In that light, the aircraft seemed a container of sacred space.
In the city, among rivers of pedestrians filling the sidewalks, the press of engines and car horns through the streets, and the whoosh of full subway cars gliding by, I moved in close proximity to thousands of other people in a single day. So many souls; I was one among many. It changes everything to remember that each one is a way of seeing God. When the light changed at the street corner, I joined the wave of people washing across the avenue, part of the ocean of humanity in that city, upon this earth.
Thinking of other people as expressions of the divine lets everyone in. It shows that adopting tunnel vision regarding what I want is to choose a kind of blindness. All these people line the walls of that tunnel, each with their own ways of manifesting life. Each one matters. When I open my eyes, I see that every place where our lives intersect is holy.
Yet sometimes it's too much, letting in all that humanity. Their energy clashes. Their oblivion is painful. They make such a mess, leaving chaos behind wherever they go. Like the trash blown up against the curb early on Sunday morning. Like the young woman dropping a gum wrapper on the stairs of the subway in front of the old man sweeping up and spitting a round of Spanish in response. There are reasons why we block out the press of life around us.
But if people are the diverse expressions of a divine commonality, we inherit a connection to all of them. Other people are the sea we're moving through, whether we're fighting the water or swimming in it. We, too, make up this sea of life. We're part of a miraculously varied and endlessly energetic creation. The diversity we see out there is within us as well, and the expression we give to it makes us an integral part of the whole.
We really are all in this together. Why is it hard to learn a truth so old and so familiar?