Despite my best plans it's not until now, when we're on the quiet side of the holidays, that I can fully appreciate Advent. I meant to spend those weeks leading up to Christmas with Kathleen Wiley's wonderful book, New Life: Symbolic Meditations on the Birth of Christ Within. A good idea, but Christmas gains speed in December and my contemplative intentions scattered.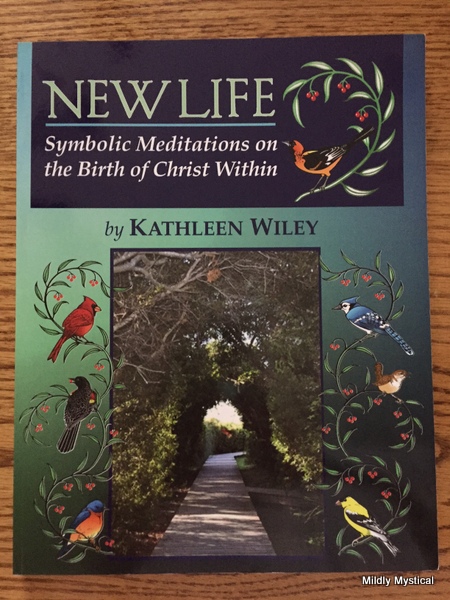 Ideally, Advent is a season of quiet waiting, preparing for the birth of God into the world and the birth of our highest self into being. The four weeks leading up to Christmas focus on hope, love, joy, and peace as we invite the divine child to be born in our hearts and in our midst. But it's only now, in the silent nights following the holidays, that there's time to reflect on how to claim those gifts and live them out in the new year.
Hope, love, joy, and peace speak to the deepest needs of our soul. We need them so much that we're almost afraid to ask for them, much less trust that our longing will be fulfilled. Yet the message of Christmas is that our hearts' desires will be met if we allow it. Grace truly abounds, if we can let ourselves be open to it. This is what we are trying to show our children through the gifts we place under the tree. But we forget that grace is ours as well. The tree itself is there to remind us of life's evergreen gifts and the light of hope, love, joy, and peace.
Back in December, as the solar calendar wound down toward the longest night and the social calendar filled up with holiday festivities, the church calendar brought us through four weeks of meditation on these gifts of the Spirit. Now as the days slowly grow longer and the sun begins its return from the far point on the horizon, I'm ready to retrace the steps through those four weeks. We've turned from the innermost point of the spiral, and as we wind outward again into a new year, those mediations await like a trail of breadcrumbs. The challenge is to stay in touch with how these gifts are manifest in our lives, and to find a way to give them expression.
Hope, love, joy, and peace are ours. We don't have to create them or earn them. We don't have to craft them or bake them or buy them. They aren't the result for a perfectly executed holiday, they are the gifts that make our imperfect celebrations beautiful. They aren't a reward for a perfectly lived life, they are the compass that orients us in how to live. For the next few weeks, I hope to rewind my way through the lessons of Advent and consider how to carry its gifts forward into a year in which we desperately need them. I'll be listening for the echo of those longings shouted into the canyon of Advent, as they reverberate through these quiet days and carry us into the new year.