I've been re-cultivating the discipline of push-ups against the door frame lately. Fifteen was a challenge to start with, and now I can do thirty. I'm stronger, but it wasn't entirely my doing.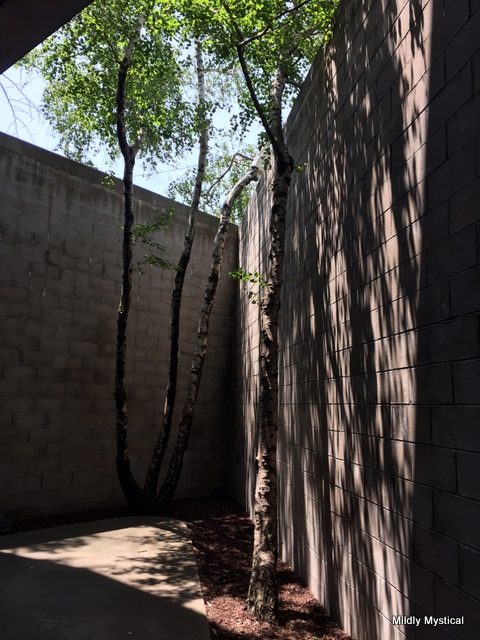 I did stick with the activity, remembered to take time most days, persevered in pressing my weight away from the door frame until my muscles complained, endured the sense of weakness as I reached my limit. That much I could do.
But the getting stronger part is a mystery. It happens quite independently of anything I can direct. The body's own wisdom and intelligence is knit into how we're made.  It repairs the tiny fissures in the muscles in a way that leaves them more powerful. I invite that repair by exercising enough to stress the muscles without overstraining them. But the growing strength is the body's own doing. That potential is built into the design of this miraculous embodied experience.
We do our work—physical, mental, emotional, spiritual—in co-operation with the universe. Hopefully over time we learn to make space for the greater wisdom and power available to us. Into that space enters a transformative life force beyond anything we can put there. Trusting that process is what faith means. We aren't alone; it's never up to us alone.
Just before I fall asleep at night I know I'm being carried and I can let go. In fact, only if I let go can I sleep. Such a mystery, this space that opens up when I step back from thinking, planning, reviewing, worrying. In that space is an unnameable reality more real, more enduring, than all the plans and work and details that pass away. In that space is the experience of safety, wholeness, and love.
We're part of the magnificent flow of life. We do our best to do our part, whatever that may be. Whether we're in the calm before the storm or the storm before the calm, we're carried by something bigger.
Making space to connect with that source of wisdom can change our perspective. As we rest from our labors, it knits us together stronger. And when we take up our tasks again, the strengthened source of wisdom within helps us offer the peacemaking presence that this world sorely needs.