In this season of almost spring (a time described beautifully by Amy Oscar at her blog: Story, Spirit, Seed), I find myself thinking about the taste of Chartreuse. The flavor suggests the greening of the earth, the scent of mown grass and fresh herbs, the return of the sun in spring. Even its luminous yellow-green color speaks of new life.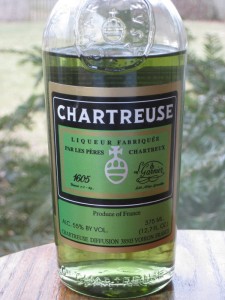 It's still a bit early to retrieve the bottle from the dark recesses of the kitchen cabinet. But for the first time in months I remember it's there, waiting. Its distillation of past growing seasons holds the memory and anticipation of spring.
Chartreuse and its secret recipe have a fascinating history, which lends a delicious mystique to the experience of drinking it. I first tasted the liqueur in the company of dear friends after we watched Into Great Silence together. The film shows the passing of a year in the Carthusian monastery of La Grande Chartreuse, where Chartreuse has been made for centuries.
To watch the film is to experience something of the monastic life, with its beauty and tradition, as well as its constriction and mundaneity. The film evokes both yearning for the spare beauty of the monastery and claustrophobia at its repeated routines. It has no speaking, no soundtrack, only a few frames containing a word or two of French. Sounds such as the creak of a monk's kneeling bench are heightened, enveloped in profound silence. It's a beautiful film of changing light and unchanging ritual. I was glad to share its silence with friends, and also glad to speak with them about it afterwards.
The elixir made by the monks is lovely to sip on its own. Mixing it with the clear, cold effervescence of club soda makes a wonderful drink as well, something like the taste of winter giving way to spring.
That transition is a process happening now, at least for those of us in the Northern hemisphere. But how do we know when to celebrate?